Shocking! Organs Harvested from live prisoners WITHOUT anaesthetic in China
Livers, kidneys and even corneas removed from 11,000 live political prisoners WITHOUT anaesthetic every year in China, claims documentary 
China's hospitals are harvesting the body parts of thousands of political prisoners and removing their vital organs while they are still alive, according to a harrowing documentary exposing the horrific state-sanctioned practice.
Doctors and medical students working in state-run civilian and military hospitals take up to 11,000 organs a year from donors under no anaesthetic to supply China's lucrative "organs on-demand" transplant program, say a network of invesitgators comprised of international researchers, doctors and human rights lawyers attempting to end the macabre abuses.
The documentary, Human Harvest: China's Organ Trafficking, by Canadian filmmaker Leon Lee, followed these investigators for eight years as they worked to mobilise international condemnation of what they say is a booming billion-dollar organ harvesting industry for the benefit of wealthy paying organ recipients.
"When I cut through [the body] blood was still running … this person was not dead," said one doctor of his first encounter with live organ harvesting as a medical student filmed by Lee.
"I took the liver and two kidneys. It took me 30 minutes," he said.
A former Chinese hospital worker and doctor's wife, whose identity was withheld, told Lee that her husband had removed the corneas of 2000 people while they were still alive. Afterwards the bodies were secretly incinerated.
China has the second highest rate of transplants in the world with more than 10,000 procedures performed every year, however the combined number of registered organ donors and the organs from executed prisoners does not account for all the operations.
Ex-prisoner Zhang Fengying recounted how she was medically examined alongside 500 others at a women's forced-labor camp in Beijing last year. "None of us knew what these blood tests were for," she said. As the doctors only examined the parts of her body associated with organs that can be sold—liver, kidneys, heart, lungs, skin, cornea, and hair—she now suspects that the prisoners were being examined on the basis of their suitability for forced organ transplants under the pretext of health checks.
"While it's unlikely that one person can provide more than one or two organs for donation, there is nothing to be gained from allowing a victim of forced organ harvesting to survive or escape," Gutmann told me, explaining that these operations tend to be fatal.
"Money is just a component in this process, but not the main point; there remain to be many Falun Gong practitioners who refused to be transformed away from their religious beliefs, so in the eyes of the Chinese Communist Party they have found a way to make the intolerable profitable," he added. " This is not exploitation; this is political genocide. These people are prisoners of conscience being killed for the value of their organs."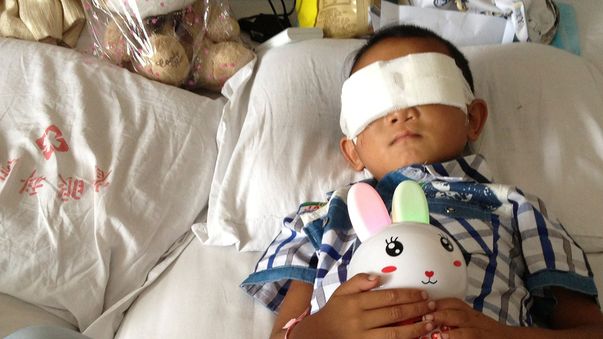 An unidentified woman abducted this young Chinese boy and removed his corneas in order to profit from the black market organ trade. (AAP)
Human rights lawyer David Matas said living political prisoners, such as members from the banned religious group the Falun Gong, made up the primary targets.
"Somebody's being killed for the organs. There's no other way to explain what's happening," he said.
Last year details emerged of young Chinese children who had been abducted and had their corneas taken out.
A six-year-old boy from the Shanxi province in northern China was returned to his parents anonymously after he was kidnapped and had his eyes removed.
"We originally thought he had fallen down and smashed his face, we didn't notice that his eyes were gone when we first discovered him," the boy's father told a local news station.
Chinese officials denied the allegations and said the organ donors were volunteers.